One of my favorite visual corsetry effects is fan-lacing. While it looks beautiful, with its perfect symmetry and matched columns of wraparound, criss-crossed lacing, it also has a very practical purpose.
As fancy and complicated as it appears, fan lacing during its heyday was revolutionary for simplifying the process of getting dressed!
A Very Short Explanation of Fan Lacing
Many people are familiar with the basics of a corset, and one of a corset's quintessential features is the lacing up the back. While one can lace up their own corset alone, like many things, the task is more easily accomplished with two. Fan lacing allowed an individual to tighten their own corset as much as they'd like with unparalleled ease.
Though I'm no engineer, the mechanism is that the laces are essentially connected to multiple tabs or adjusters. (These adjusters are frequently, though not always, metal in modern age.) Ribbons are looped through the other side. When the ribbons are pulled, the laces draw together in the back, thereby tightening the corset. I suppose the best way to describe the process, from a physics perspective, is an elegant pulley system.
A Very Brief History of Fan Lacing
While fan lacing is often identified with the corsets of the first half of the 20th century, they can be traced as far back as the 1830s, before the invention of either the metal slot-and-eye busk or metal grommets (and just after the high point of short stays)! What's fascinating is that, like most really good inventions, the basics of fan lacing haven't changed since.
However, my first fan-laced garment – way back when I was still going by Stockings Addict – was made by Camp, who is credited with revolutionizing the fan lacing system. Samuel Higby Camp wasn't the first person to invent the fan-laced corset, but his design is the one people are most familiar with. Camp reworked process in 1908, and filed a patent for his specific design in 1918. In between that, he started a corset company.
Unsurprisingly, these weren't the only patents on the fan-lacing concept. An Australian contemporary of Camp, Sarah Jenyns, patented her own design in 1914. Similarly, Anna Sturz filed a patent for another take on the fan-laced corset in the 1950s. (Though by now, the term "girdle" was becoming more popular.) That's the thing about good design…it's continually iterated upon.
However, as an everyday garment, fan lacing went the way of the long petticoat and fully fashioned stockings, rendered obsolete by all but the most dedicated fans. In order to survive, many corset companies, Camp included, switched to garments (and marketing) centered around the medical and therapeutic benefits of support garments rather than their artful effect.
Modern Day Fan Lacing
Today, in an era where we no longer wear corsets and girdles on a daily basis, fan lacing is primarily appreciated for aesthetics rather than function. To wear one is deliberate choice made by the wearer rather than an obligation forced by the pressures of society. Particularly at a time where there is a race to the bottom in terms of quality and fashion homogeneity reigns supreme, seeing this now-uncommon (and more expensive) construction technique resurface in modern day lingerie is a delight.
In fact, fan lacing is so distant from what most people think of for lingerie, that it's almost become avant-garde. An old thing that feels brand new simply because of its infrequency. As someone who adores vintage fashion, modern design, and also loves when historical techniques make a reappearance in contemporary intimate apparel, this resurrection of fan lacing is a lingerie addict's dream come true.
Even today, for dedicated corset wearers, burlesque dancers, or simply the curious, fan lacing allows them to easily lace themselves. Fan lacing also remains an ideal corsetry solution for those with disabilities or limited dexterity while adding an element of gorgeous visual interest.
Here are some my most favorite recent examples of fan lacing from several different lingerie and fashion brands.
Savage X Fenty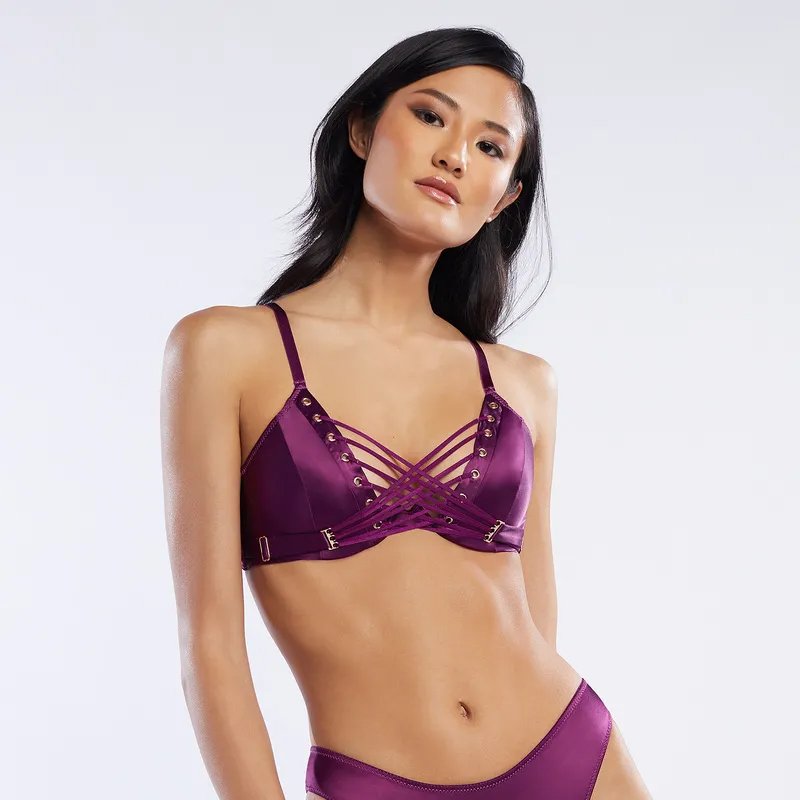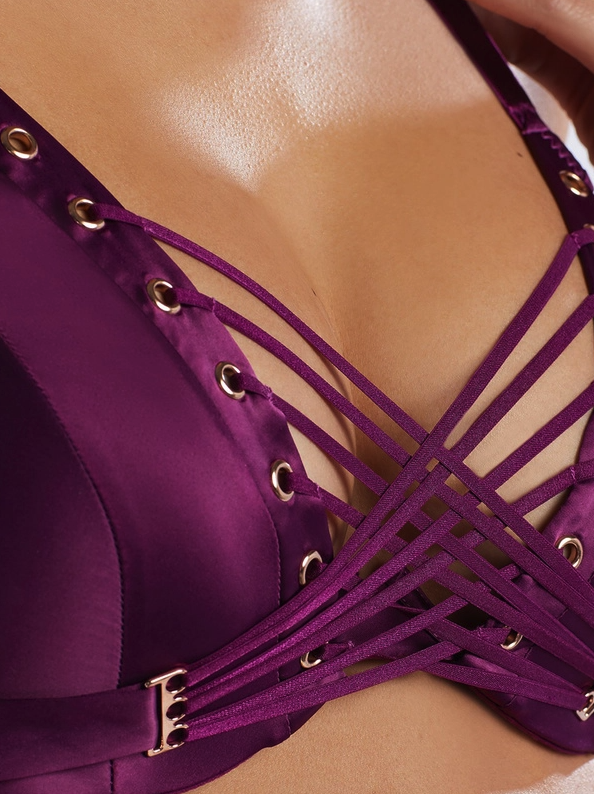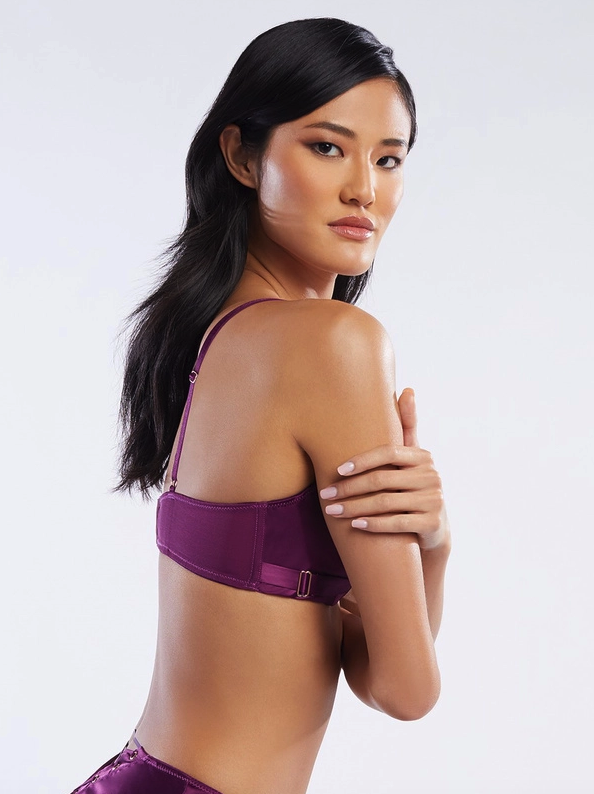 Taken from one of Savage X's very first collections (appropriately named "Laced"), this vivid purple bra clearly draws inspiration from fan-lacing. However, it still has a "regular" hook and eye closure in the back, indicating the lacing was primarily an aesthetic feature. Interestingly, Savage X hasn't produced a design like this since, perhaps an indicator of its expense despite the striking appearance.
Honey Birdette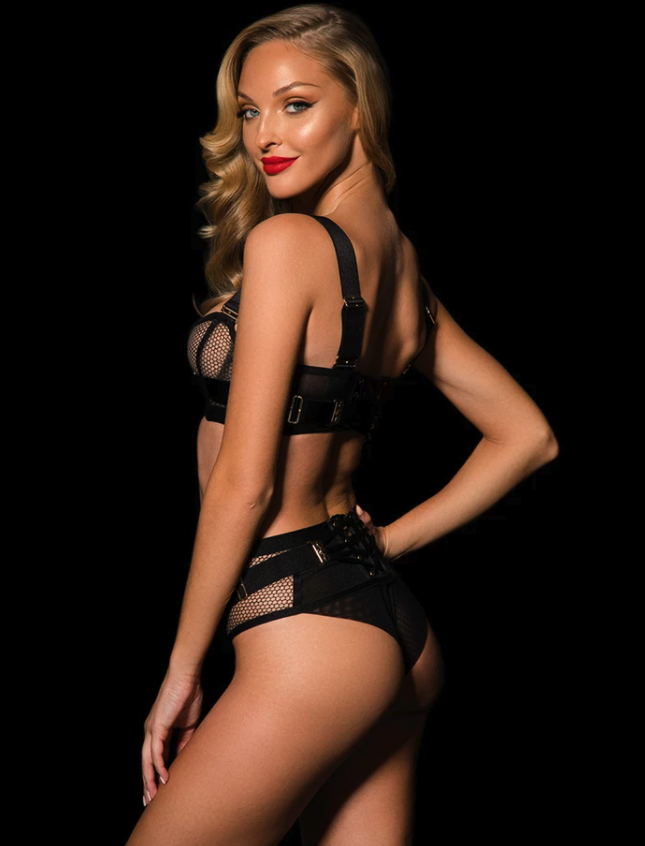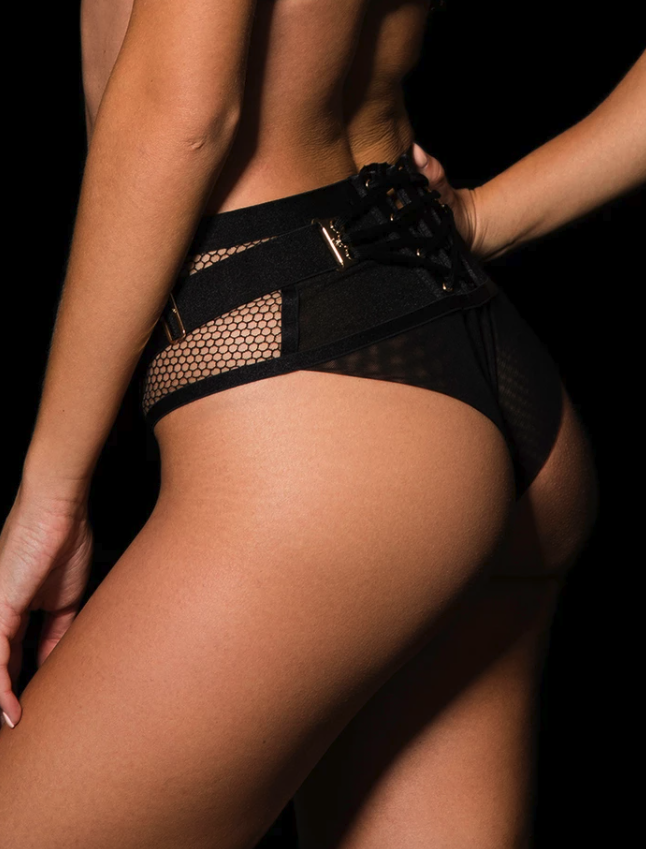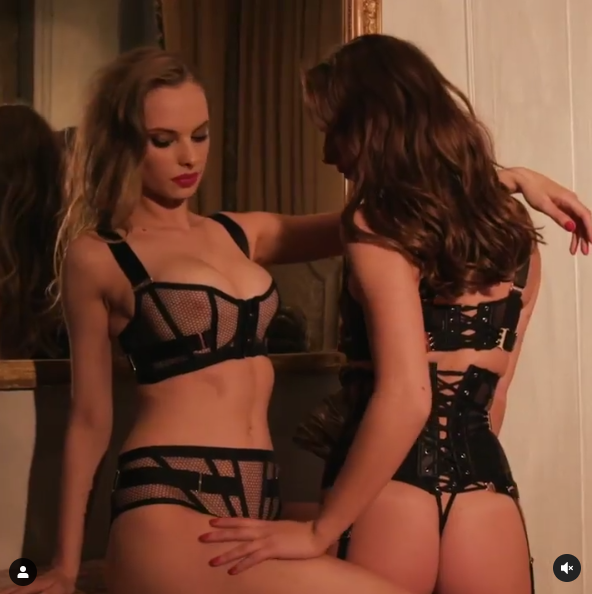 Honey Birdette's "Chanee" collection (which, like a distressing number of lines, appears to simply disappear from the internet as soon as it sold out), featured fan lacing visuals on the bra, cincher, and knicker. I do wonder about the performance of the fan lacing on the bra and corset. I've never seen either piece in person, but the appropriate lacing seems to be on the back of each, which at least indicates a possibility of functionality.
Agent Provocateur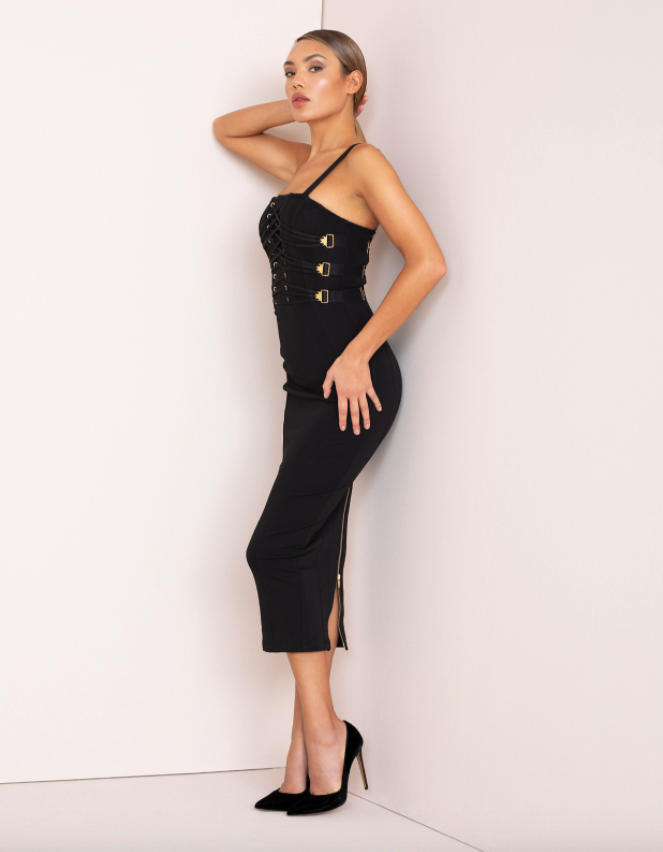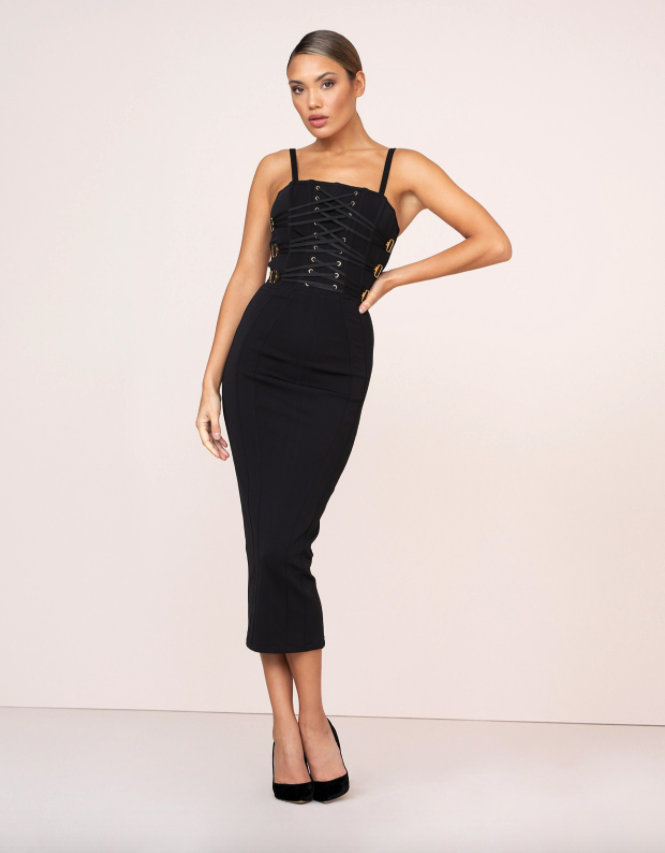 Of course, it should come as no surprise that one of the world's most famous "sexy lingerie" brands would feature a garment with fan lacing. Agent Provocateur's Veira Dress shows the outerwear capabilities of fan lacing in a way that's reminiscent of the Gaultier dress from earlier in the article. The fan lacing details are literally front and center. And back and center as well.
Murmur Clothing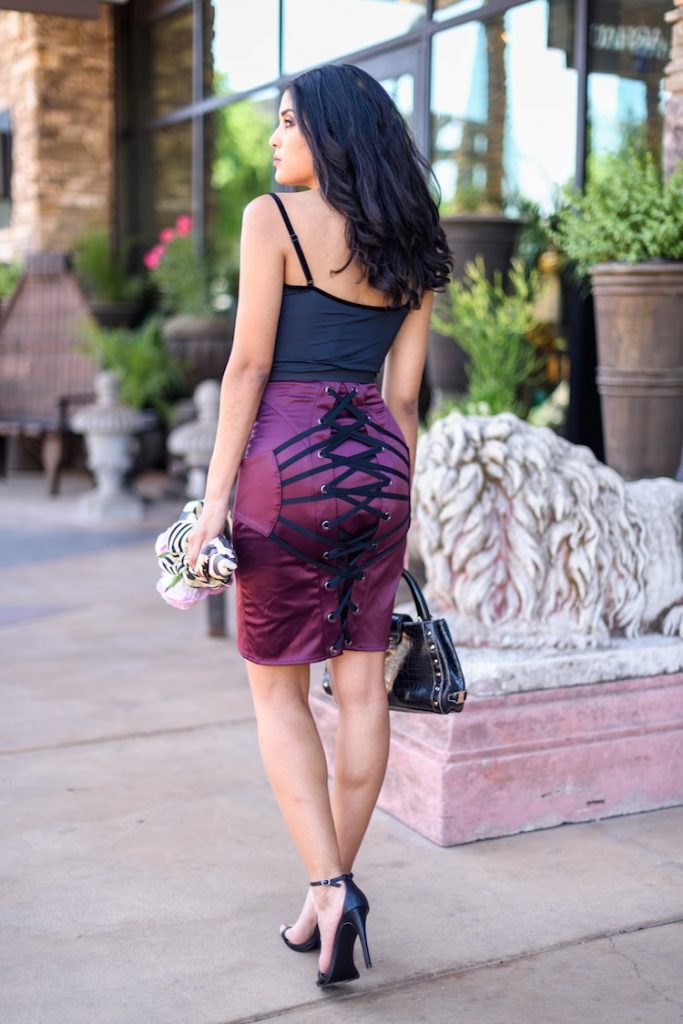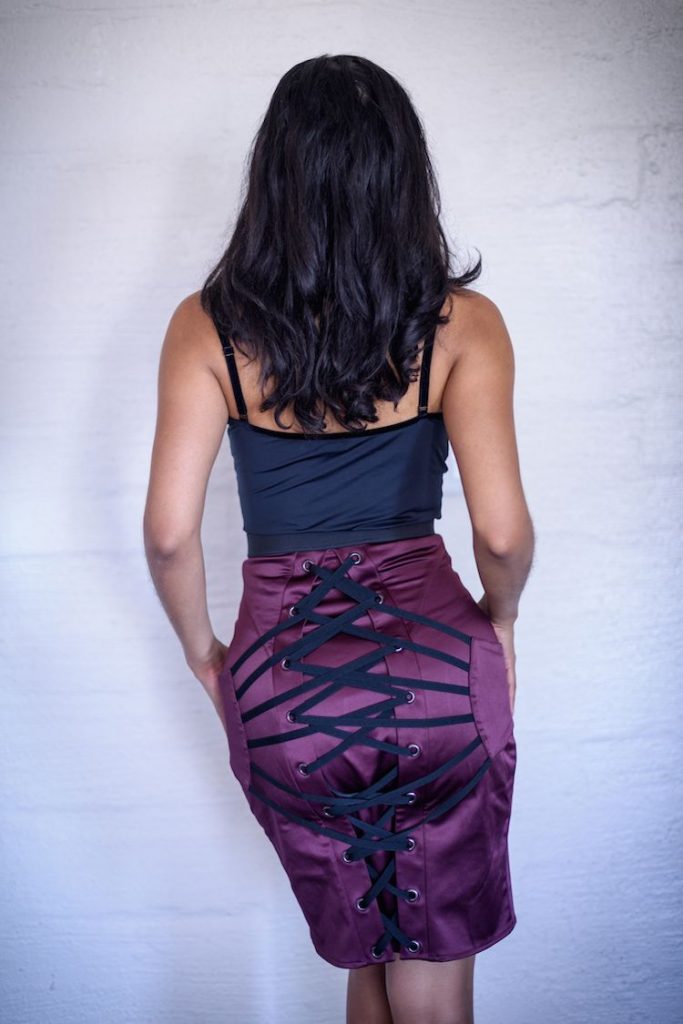 Though this is an older design, Murmur Clothing's take on fan lacing in fashion is one of the things that first drew me to the brand. The potential for sexy outerwear is perfectly captured in this photos (which were originally taken for the luxury lingerie boutique Anya Lust). While it doesn't appear as though Murmur still produces this design, having since refined their aesthetic, I'd love to see them rework the concept into a better fit with their most recent branding.
Shawna Wu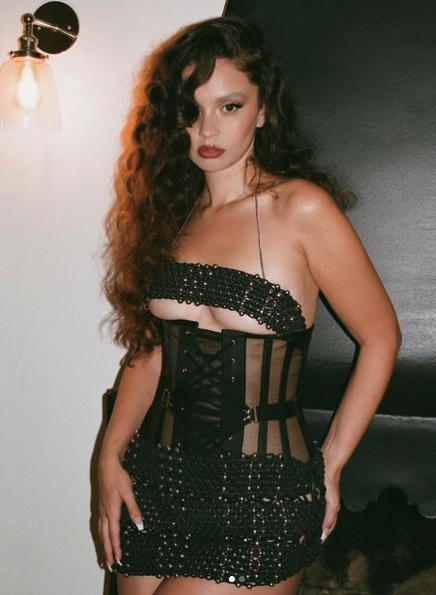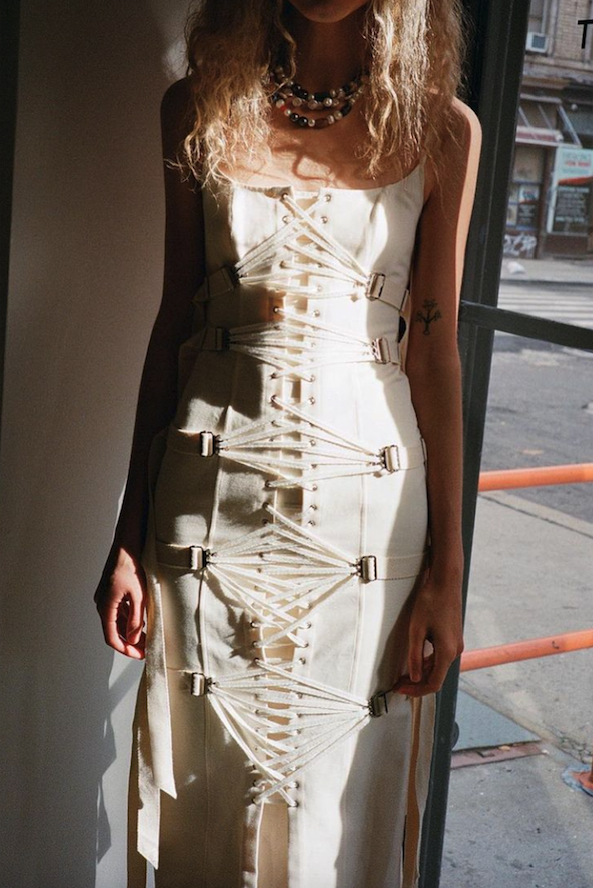 It's always a delight when I learn about a brand in my research that I'd never have discovered before. Shawna Wu is one of those. This discovery is made even more exciting by her being the newest brand on this list. Wu's high fashion takes on fan lacing truly show the possibility of the form, and would suit any influencer or celebrity.
The Future: Vintage Resellers?
As I mentioned above, fan lacing is becoming popular again and finding a new audience, which is wonderful. But a downside – at least to me – is how expensive authentic, vintage fan laced corsets have become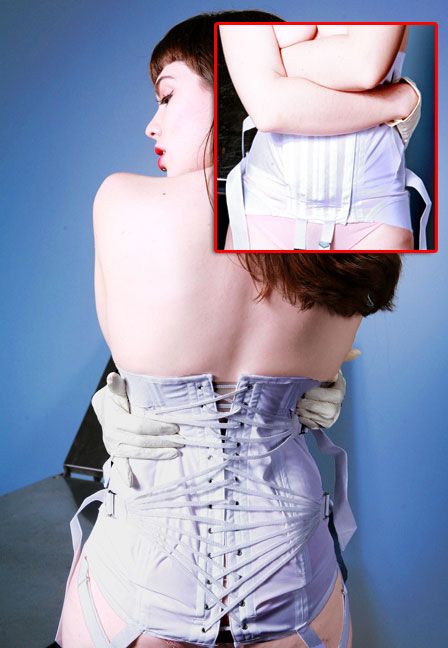 Not to be all "back in my day" (even though that's exactly what I'm about to do), but when I began blogging, the Cortland fan-laced girdle, sold on Girdlebound (where the above image is from) cost $65. $75 if you wanted custom dyeing.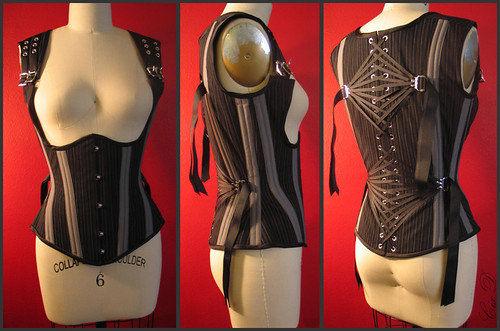 In 2008, I purchased a custom fan laced corset from Cicatrix Designs near identical to this one – except all black – for $190. Thank the maker I still own it. And that it still looks as good now as it did then.
Of course, the costs of everything have gone up, and it wouldn't be reasonable for me to expect these prices in 2022. Particularly for my custom piece, which was purchased during the corsetry renaissance of the late 2000s.
However, vintage girdles used to cost the same (or even less!), but now…?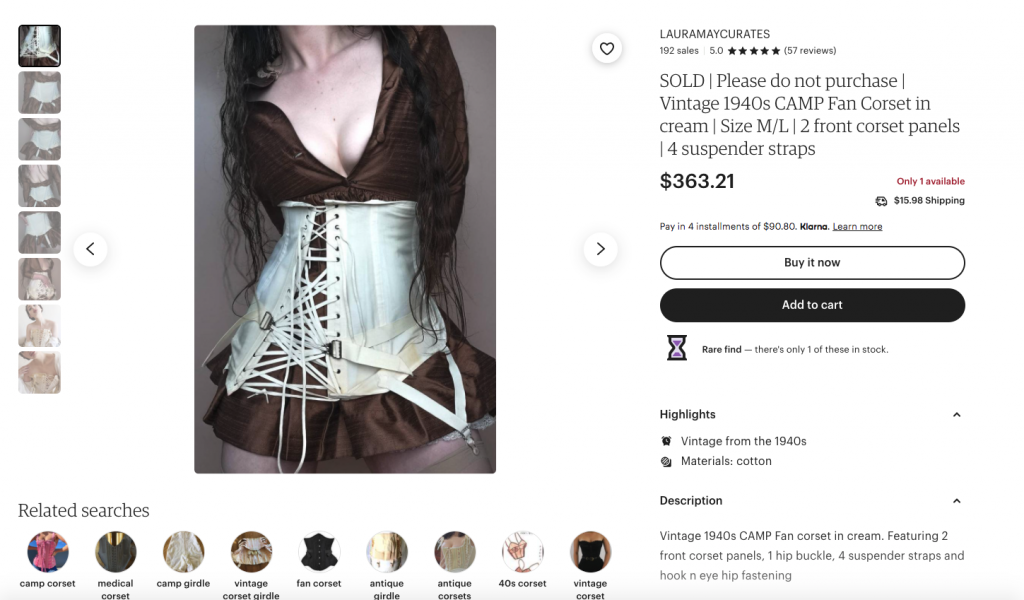 Though I'm not on the mainstream fashion influencer circuit, I imagine some of this change has come because of the more fashionable among us being able to style (upgrade?) these vintage pieces so they look cool again in a shabby chic way…as opposed to just like girdles, which feel considerably less modern.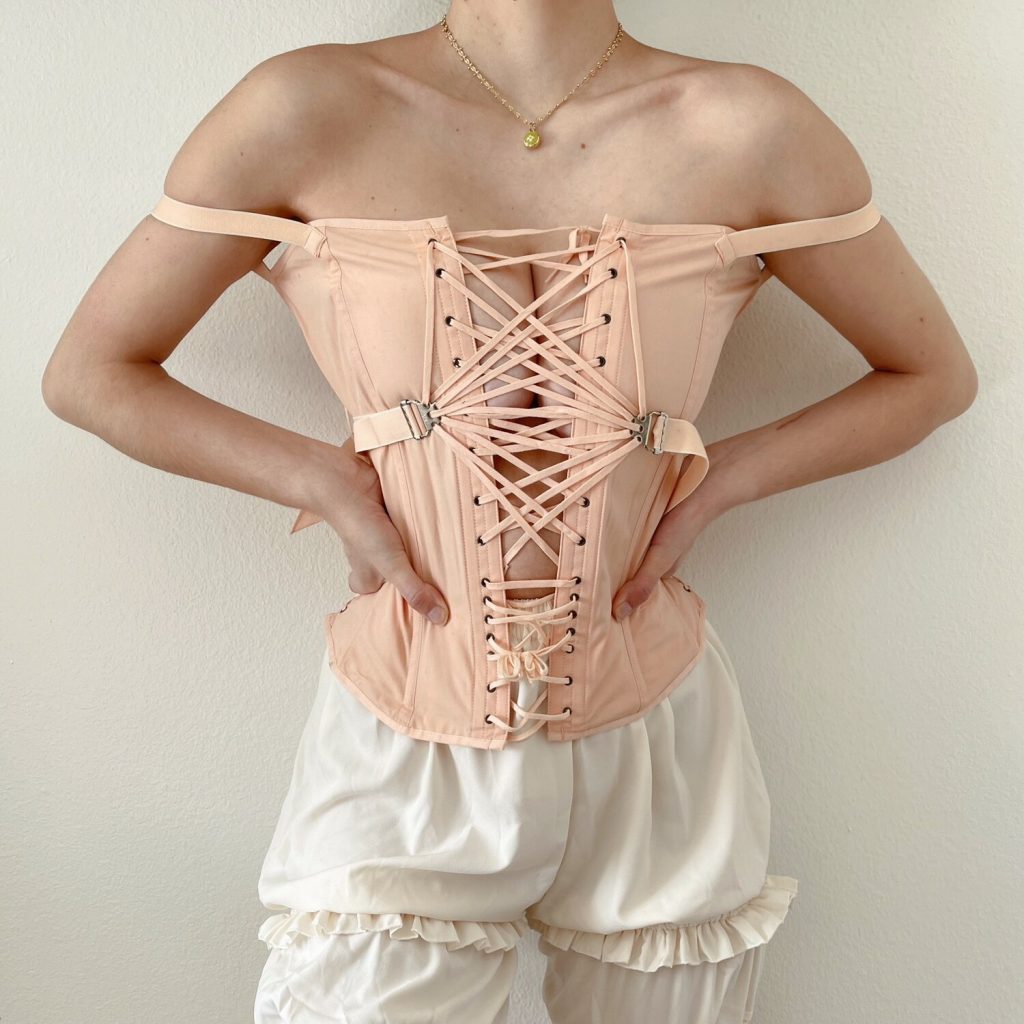 For example, Sororite Vintage sells fan laced corsets for hundreds of dollars each. This fan-laced corset above from the 1950s was reconfigured as a top and sold for $325.
But I suppose I can't fault the sellers. If you've found people willing to spend $325 for your flea market finds (which, are, unfortunately, frequently stained or in disrepair as the earlier example from Etsy is), I suppose more power to you. It's just a business fulfilling a demand. As for me, I think I'd still rather give the flea market a try first.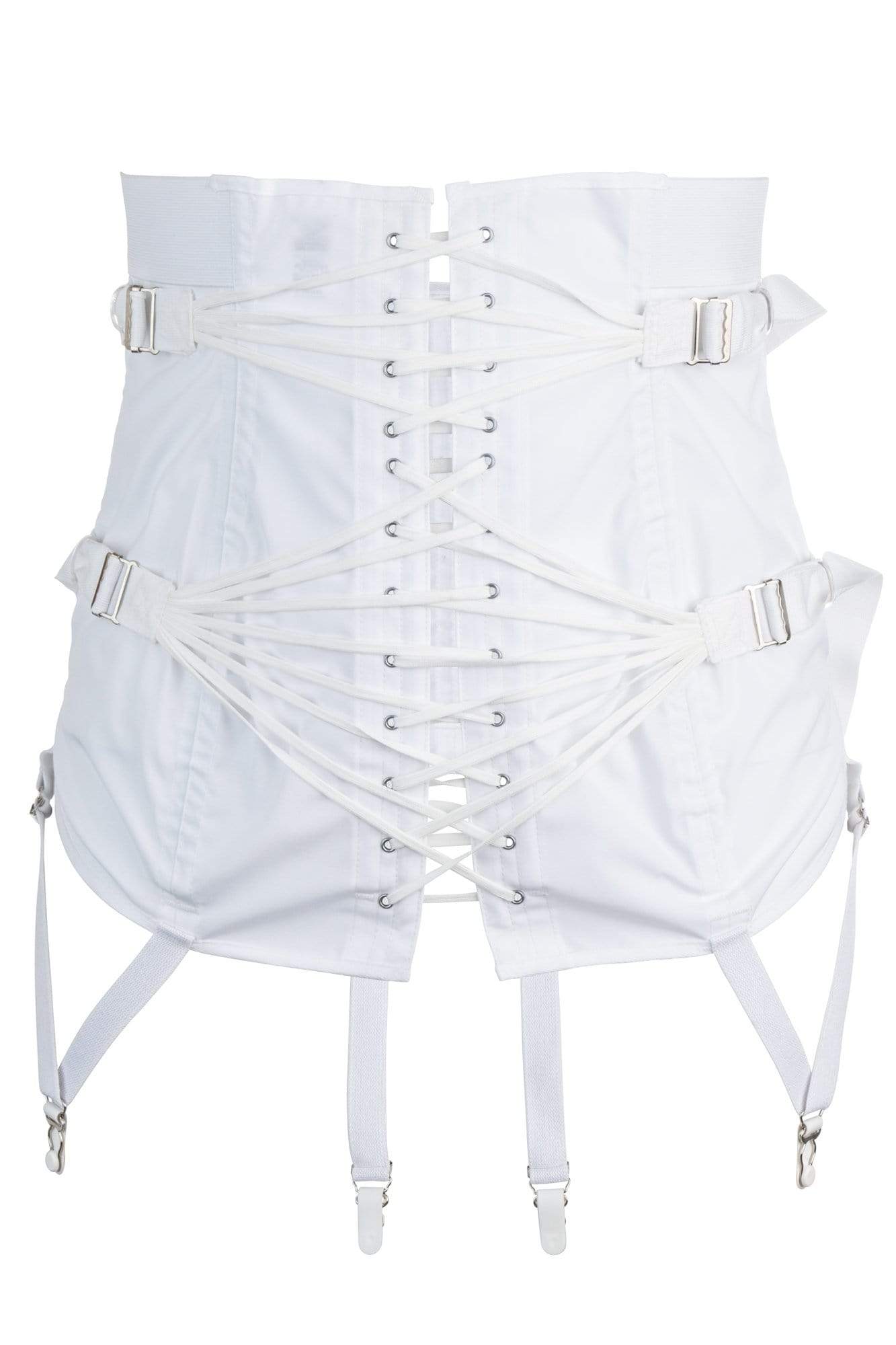 That said..if you like this look, and if you know how to dye (or are fine with wearing bright white), and if you'd rather not spend $300, Rago Shapewear still has a few of the old-fashioned Cortland fan-laced girdles in stock for only $80.
I'm 97.8% certain this is deadstock (which is why the sizing is so limited), but it's worth a try.
What do you think of fan lacing? Would you ever consider this aesthetic detail for your own personal wardrobe?